Michael Parkes has earned the stature of 'New Old Master', taking his place among the 'Old Masters' of our time. He is a highly skilled master with undeniable individuality and unrivaled techniques, who has dedicated his life to art. Michael Parkes's name belongs alongside our Old Masters, the likes of Leonardo da Vinci, Michelangelo, and Rembrandt.
Michael Parkes is often regarded as the Father of Magical Realism, and he remains the leading magical realist of our time. He draws and paints in a meticulous style of detailed representation, giving full expression to his inner world of images. Michael Parkes' works are collected by celebrities, prominent private collectors, and galleries around the world, and his body of work stands for all ages.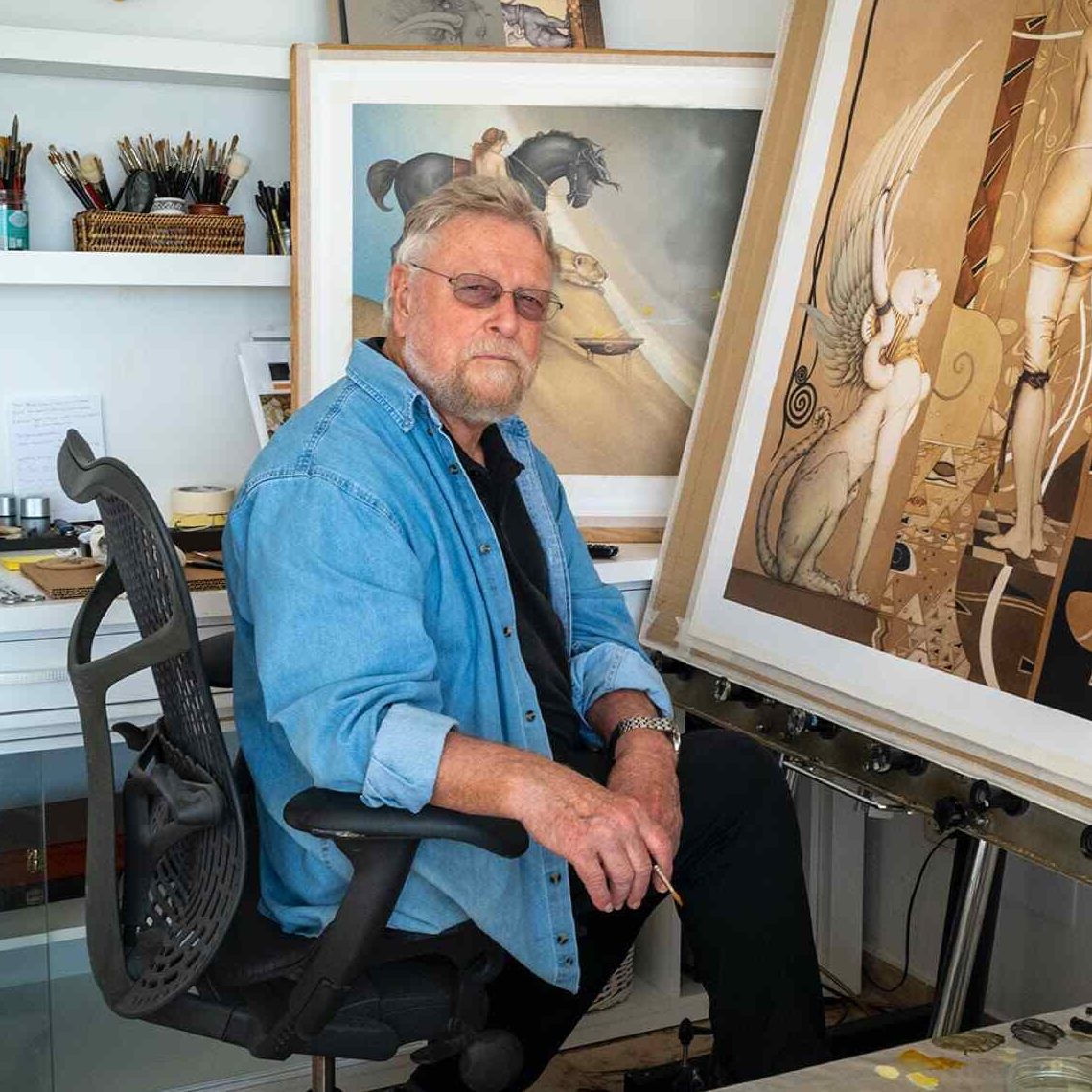 Michael Parkes is one of the leading founders of the Magical Realism movement, and a true artistic master in the oldest sense of the term. With decades of achievements as a fine artist, he weaves his artistic spell across mediums, having mastered the realms of painting, drawing, sculpture, and stone lithography. His artworks are found in the treasured collections of celebrities, discerning private patrons, and galleries spanning the globe.
Born in 1944 in Sikeston, Missouri, Parkes has described himself as an avid reader from a very young age, and he was especially drawn to books on philosophy and religion. He went on to study painting and graphic arts at the University of Kansas, but like so many of his generation (it was the 1960's after all), he felt compelled to embark on a spiritual search for deeper meaning. At 24 years old, he and his wife, Maria Sedoff, moved to India with the intention of living there long term. During this time he abandoned painting altogether as he searched for deeper truths and higher meanings.
Years would pass – searching, meditating, learning – before he moved to Europe and began to paint again. While he had initially worked in the Abstract Impressionist style typical among his teachers, his return to painting saw him seeking to more faithfully reproduce the fantastic images of his inner world. Striving for more realism in his work, while working with subject matter that was undeniably magical, his work came to embody the spirit of Magical Realism. The term was not new, coined by German art critic Franz Roh in 1925, but it wasn't until Parkes' work in the latter half of the 1970's that the world saw the modern definition of Magical Realism brought to life on canvas.
It was in 1977, in Amsterdam, that the art world was introduced to Michael Parkes through his first one man show, followed by additional solo exhibitions at Basel Art in Switzerland, Art Chicago, Art Fair NY, Frankfurt Bookfair, Amsterdam Art Fair, Tefaf Art and Antiques Fair Maastrich, along with many exhibitions in their galleries in Amsterdam and New York.
The art world may have been intrigued by Parkes early work, but it was Gargoyles, painted in 1985, that thrust him into the mainstream consciousness. First seen at the Basel Art Fair, it went largely unappreciated in its first public showing, but after being reproduced as a poster for the North American market, it exploded onto walls everywhere – dorm rooms, offices, living rooms. If you were alive in the late 1980's, you surely encountered a print of Gargoyles at some point, even if you didn't know the artist. A young girl on the cusp of womanhood, testing some mystical powers still not understood, bringing her stone guardian to life to engage in a last bit of childhood play. It's a visual that asks more questions than it answers, and that might be part of the magic behind the art of Michael Parkes.
Not content to simply master the art of painting, Parkes next devoted himself to the practice of Stone Lithography, and continued working in the medium until he was considered one of the few living masters of the craft. He then turned his eye to sculpture, working in Italy to bring his magic to life in bronze. And finally, as the 19th century drew to a close, he produced his first fine art limited edition, The Last Lion, making his work accessible to an even wider audience of collectors. That first fine art edition of sold out almost immediately and is still highly sought after by collectors. It's expected that The Last Lion will soon be released as part of the Majestic Collection, which reproduces some of Parkes' finest work on a grand scale, up to six feet high.
It was also around the turn of the century that Michael Parkes came to know Dianne Borsini-Burr – first as a collector, then as a gallerist, and finally, in 2008, as the exclusive representative for his original artwork, a relationship that continues to this day. Dianne worked tirelessly to bring Parkes' unique vision to art lovers worldwide, and that audience was about to grow even larger thanks to a best-selling author.
Dan Brown, writer of The DaVinci Code and other acclaimed novels, saw The Three Graces and fell in love with it. He sought out the original oil on canvas and acquired it for his personal collection. It then found its way into Brown's own work – the painting is referenced repeatedly in his 2009 novel The Lost Symbol. Brown is far from the only luminary with artwork from Michael Parkes in his collection – something about Parkes' work has an irresistible appeal.
Parkes is a serious student of the most esoteric teachings of Eastern and Western knowledge, and that deep study is evident in his artwork. His imagery draws from many ancient traditions – Cabalistic, Tantric, Vedic, Buddhist, Egyptian, Greek – incorporating archetypes that everyone can connect with, filtered through his own imagination in an effort to reveal to us a deeper truth. Angels dance with mortals, strange beasts are tamed or unleashed, arcane symbols dance in the margins – this is the art of Michael Parkes, hinting at unseen mysteries and untapped knowledge.
Over the five decades of work, Parkes has continued to perfect his art, and his career as a contemporary fine artist is noteworthy in that he has been able to achieve success in the primary and secondary art markets, with new original work selling almost immediately, limited editions in high demand, and a vibrant aftermarket for his artwork. The only limit on how fast Michael Parkes paintings can sell would seem to be how quickly he can paint them! Unfortunately for collectors, the exquisite detail that he imbues each artwork with means that even his smallest canvases can take months to perfect, and he only produces a few new original works each year. Parkes continues to paint today from his home on the coast of Spain.
If you'd like to be notified about opportunities to acquire one of his new original paintings, contact Dianne Borsini-Burr.
Dianne Borsini-Burr on Michael Parkes
Michael Parkes on Dianne Borsini-Burr
In this video, acclaimed artist Michael Parkes shares insights into his 23-year collaboration with Dianne Borsini-Burr, owner of Borsini-Burr galleries and his exclusive representative. This behind-the-scenes look into his creative process and partnership with Dianne Borsini-Burr is a must-watch. Tune in now to discover the secrets behind one of the most successful artist-representative relationships in the art world.